The bed & breakfast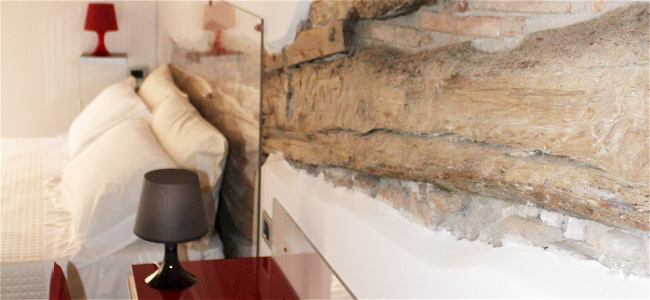 La Filanda provides an ideal accommodation for people who desire visiting and living the centre of Brescia without renouncing peacefulness. It is located in a completely restored ancient palace, at a few steps from Piazza Loggia in Vicolo delle Cossere, a small town district that had been part of merchants and artisans quarter since the Middle Age. Today this is a calm and quiet residential street.
La Filanda is organized according to the formula "bed & breakfast", that is to say it offers some bedrooms with breakfast buffet service. It is distributed on two floors which are equipped by a lift that can be accessible also to the disabled. The guests have a common hall used for breakfast and 3 different types of bedrooms – M, L, XL- at their disposal. Each one of the rooms is characterized by different dimensions and furniture. Antique furniture is mixed with mirrors and objects found on small markets and with modern design objects.
Bedroom M is a single room with a French bed. It is equipped with a bathroom for the disabled. L is a double bedroom with private bathroom, while XL is a small suite composed of a double bedroom, a single bedroom and a bathroom.
All the bedrooms are equipped with air conditioning and heating with an independently regulated thermostat, with internet WI FI connection, with a flat screen television and a safe with basement. For a comfortable welcome of children, a cradle or a small bed is available on request, together with linen, high chair, baby's bottle warmer. In the common hall there is a fridge and a microwave oven in addition to cups, plates and cutlery for the little guests.
From La Filanda, by a short walk, it is possible to reach the following places: Museo Santa Giulia, the Castle, the place and the town monumental buildings as well as the churches, the most ancient and the most rich of works of art ones. The theatres and the town shopping streets, but also the commercial centre "Freccia Rossa", can be easily reached.
Moreover La Filanda is well connected to all the town quarters by means of the town bus network, and it is located at 900 metres from train and bus station, which connects the town to other towns and villages of the province.